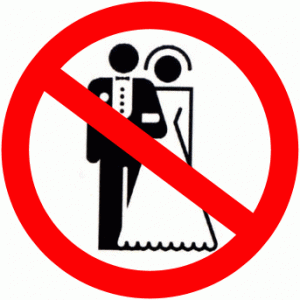 In our society there is so much focus on getting married and starting a family that tons of people jump blindly into the dark waters and the get swallowed whole by the black abyss. Now really why should we get married? I mean there's obviously a focus on it and we are brought up believing that's what we're supposed to do, but why are we supposed to do it? Because society says so? Because there's a tax break? Well, honestly I don't know why we're supposed to get married, but here are 10 reasons why you shouldn't:
1. Children – Yea kids are great right? Only when you can give them back to their owners. Again this is something society has instilled in our heads from day one. We are supposed grow up get married and breed. Well the fact of the matter is that kids are damn expensive! The average cost of raising a child from birth to age 18 is $250,000, yes you read that number right. And on top of that ridiculous number some people simply shouldn't be parents.
2. You feel like you're at that age – So many guys will simply say screw it let's get married because they feel like they have reached "that age" and it's "the thing to do." Well that's just rubbish! There is no age limit and there is no "supposed" to do at any certain age. You are just throwing away yourself because of what society has implanted in your brain since you were a child.
3. You think it's a good financial move – Just because there is a bit of a tax break doesn't mean you're going to get married and magically become rich. I'm not sure which fools actually think that will happen but believe you me they are out there. In fact marriage can have the exact opposite effect on your bank account. When you factor in your wife using your money to go shopping on top of the bills, the groceries, two cars etc etc you'll have a better chance of winding up flat broke out on your ass then you will being rich.
4. You think it will complete you as a person – All I can do is point and laugh if you think this is what it takes to fully grow up. Yea yea so many people will be saying "Well you don't really know what life is all about till you get married." Haha that is absurd! You can live a very full and fulfilled life without ever being married. Plus if you stay single you can have so many more awesome adventures without having a nagging wife telling you that you need to take the trash out and get back to fixing things around the house. Now, that alone doesn't sound like fun.
5. The wedding itself – Do you know how stupidly expensive a wedding is? You thought raising a child was expensive? Well, yea it is but to start it all off you have another quarter of a million dollars to deal with to make sure your bride is happy. And yes you have to make sure she is happy, it honestly doesn't matter how you feel about anything through the whole process. All you want to do is wear something a little more comfortable then a monkey suit and have a damn beer, but that's not even close the way it goes. You more or less have to ask permission to breathe to make sure it fits into the schedule.
6. The marriage itself – Have you ever had a long time girlfriend? Well then you know how nerve racking it can be at times. Now multiply that annoying nerve racking feeling and then make it last for 40 years! It's absolutely ridiculous!!! Why would any want to wake up next to the same annoying person day after day while you watch them sleep and plan their demise? It's baffling how people would want to go through all of that, and even worse they sit there and take it day after day and don't break it off. Then they tell their friends how awful their wife is, so why not leave? Why not even do it in the first place? DUH!
7. Divorce – In this day and age divorce is a very common thing. Over half the marriages in the U.S. End in divorce after a few years. That means that you don't even have a 50-50 chance of surviving. You have LESS than 50% chance of making something that actually works for the long run. And guess what, yep more money. Divorces are not cheap by any means, you have lawyer fees, court costs and then of course once it's over the man still loses half of his assets. Granted a lot of us end up losing our assets the longer we have a girlfriend so by the time you are married you aren't left with much, but she will gladly take what's left.
8. The ridiculous notion that women are the relationship – There's no other way to put it and you know exactly what I mean. The entire relationship becomes about the woman, now a relationship is supposed to be two people sharing a life together but somewhere along the line you get completely shut out of the picture. It doesn't matter what you like, what you want to do, nothing about you matters anymore. You have to cater to the woman and make sure she is happy 24-7 or you are going to end up less happy than her.
9. The absurd thought that how she feels rules your world – Now don't get me wrong you should care about other people's feelings other than your own but they shouldn't rule your life. Once you're married there's nothing you can do if she isn't happy. She will pout around the house, give you the cold shoulder, skip out on your dinner and just overall make you feel like crap. You shouldn't ever have to worry about every little aspect of someone's inner workings just so you can get a glimpse of happiness.
10. Loss of sex – This is a big part of an intimate relationship and for whatever reason women all of a sudden lose their sex drive as soon as they are married. Like what happened to the thongs and heels and hour long rough screaming sex?! They act like they have forgotten how to do anything from oral sex to intercourse and they stick firm to it as though they came down with some odd illness that prevents them from remembering how to screw. And then to make things worse they actually turn around and use it as a weapon against us. "Hun if you go mow the lawn and pick up the groceries we can go back to the bedroom." Dangling the carrot in front of your face just to pull it away at the last second.
There are many people out there who have gotten married and divorced and they keep on looking for the next special someone. Why does everyone look around and say "Is this the line to lose half my shit? Awesome!" and jump in line like someone is giving away a Ferrari. Society has twisted our views and made us believe this is what we are supposed to do, but I ask you, why are we supposed to do it? Well I just gave you ten reasons you shouldn't, so take THAT society!